Clicking on Details reveals a more extensive analysis: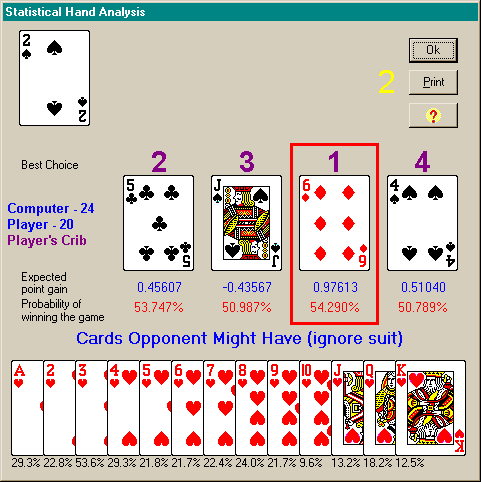 Here Royal Cribbage thinks that playing the 6 (instead of the 5) improves your winning chances by about half a percent. The reason is for this is found in the percentages at the bottom of the screen, which denote the estimated likelihood of your opponent holding a card of each rank. Based on the visible cards, Royal Cribbage figures that pone has a 45.8% chance of scoring on your 5 play, but only a 44.1% chance of scoring on a 6. Furthermore, if you play your 6 now and pone plays a 7 for a 15-2, you can then retaliate with your 5 for a 20-3, whereas if you play your 5 now, there is no way that you can retaliate on your opponent's score.
OK, but can it play?
Schempp has been working on his cribbage algorithms since 1992, and his experience shows. The Cribbage King has a remarkably good grasp of basic discarding technique. I was impressed, for example, when it tossed itself 5-K instead of 5-Q from A-2-3-5-Q-K on the first deal of a game (according to Rasmussen's discarding statistics, a K is a better choice than a Q to accompany a 3, 5, 7 or 9 in your crib). The program also knew to toss itself 2-3 from A-2-3-4-10-Q (this returns better expected averages than tossing A-x or 4-x).
The Cribbage King pegs pretty well too. It follows Colvert's rule, and will usually lead a 5 on the second play series to avoid traps in situations like this:
K 8 Q 3 (31-2) 5! 7 K 6 (28-1)
It even finds the occasional nuance that would elude most human players. Leading a 10 from 5-5-10-Q is one such nuance. Most players would probably lead the Q instead, reasoning that dealer is less likely to be able to pair a Q lead than a 10 lead. But this leaves the 10 vulnerable to being trapped into a run on the second play series:
Q 9 5 5 (29-3) Q 10 J (28-4) 10 (10-1)
By starting with the 10, and saving the more run-proof Q for last, the Cribbage King will give up more pairs, but fewer runs, over the long haul.
Royal Cribbage does have its share of pegging proclivities though. For instance, it will frequently lead the lower card from an A-4 or 2-3 combination for no good reason. (Usually, of course, you want to lead the higher card to prevent your opponent from safely playing a 5 or 6). Also, the Cribbage King does not appear to take suit into consideration when making pegging decisions. As a result, you can often obtain an advantage if you're holding a flush, since the program is less likely to correctly predict your full hand after seeing two or three cards. The Cribbage King also does not play flush fakes, at least not intentionally.
The lynchpin of Royal Cribbage's playing strength is its board strategy algorithm, which — as previously mentioned — relies on a table of game equity values for each possible score. When the Cribbage King makes a discard or pegging decision, it is not simply trying to obtain an immediate tactical advantage, but is instead calculating the estimated game winning chances for each candidate play. This sensitivity to board position allows Royal Cribbage to make some nifty strategic moves. Not just obvious ones, like tossing me 9-9 from A

2

3

7

9

9

at 84-82*, or A-10 from A

4

5

10

J

J

at 97-84*, but nice plays like the following:
Tossing me 10-K from 3-7-7-10-10-K at 44-44* and 10-K from A-3-4-7-10-K at 77-67*, sacrificing two points for defense in both cases
Sacrificing four points for defense by tossing me 2-K (instead of 2-4) from A 2 4 5 10 K at 65-73*
Breaking up 2-5-6-7-10-J at 95-97* to toss me 6-10, the safest possible discard
Tossing J-K from 5-6-7-8-J-K at 90-77*, ensuring that it would get into good Fourth Street position. How many average players would play it "safe" here by tossing 8-K instead?
Going for it by playing a K (instead of the safe A) on my J lead with A-4-10-K at 52*-54, having dropped 2-8 to its crib and seen a 6 cut. Here the Cribbage King understands that it needs offense, and that it's worth giving up a three-card run in exchange for an opportunity to peg two points for 31
Playing 6 (not 5) on my 10 lead with 4-5-6-J (Q cut) at 83*-73, holding me scoreless as a result:

10 6! J 5 (31-2) 5 J (15-2) 5 4 (24-1)

If the Cribbage King had instead taken a 15-2 on my 10 lead, the two points I'd have pegged in retaliation would have proved decisive, as I ended up falling two holes short on the final deal
Mind you, the Cribbage King's board strategy is not perfect. At 41-34* it tossed me the defensive 10-K from 2-2-5-7-10-K. A more prudent move in that position would be to keep four points with 2-2-5-10. Conversely, at 45-40*, a score at which one should be playing off, the Cribbage King tossed me 7-8 from 7-8-10-J-J-Q. A better idea is to break up this hand and toss 7-J or 8-J instead. Positional errors such as these seem to be caused by inaccuracies in Royal Cribbage's database of game equity values. For example, with the score tied at 66, Royal Cribbage reckons dealer has a 51.1% probability of winning. But most expert players I know would prefer to be pone at this score. Likewise at 42-43*, pone is given only a 39.0% probability of winning, but in reality the game is pretty much a tossup at this score, with perhaps a slight edge for pone. On the other hand, at 87-80* Royal Cribbage considers pone to be a 67.1% favorite, a figure that seems way too high given that pone has only a one point positional surplus and must contend with an opponent who will likely be playing defensively.
In general though, the Cribbage King's board strategy works more often than it fails. And it often allows the computer to stay competitive in games that would otherwise be blowouts. Like an expert human player, the Cribbage King often seems to be extraordinarily lucky, drawing key cuts at just the right moment. But one thing board strategy can do is put you in a position to benefit from exceptionally good cards when they come.
Endgames are usually the Achilles' heel of cribbage programs. The peculiarities of Fourth Street often require making plays that would be unthinkable earlier in the game. It's not surprising that a silicon player programmed to follow general principles of sound play would get into trouble as the game winds down. Royal Cribbage handles Fourth Street better than most, but it can still stumble. Here's one example:
PONE (114):
Schell

2 5 9 10

play:

2 Q? 10! 4 5 (31-2) A 9 Q (20-1)
crib:
10 Q
3 K
cut:
7
A-4-Q-Q

DEALER (119*):
Cribbage King
At 119*-114 the Cribbage King kept A-4-Q-Q from A-3-4-Q-Q-K. Normally that's the best keep, since it returns the highest expected average. But needing to peg two points to win, the computer should have kept its best pegging hand: A-3-4-K. The low cards cover three of the four most likely leads, and the K is favored since pone is more likely to be holding a K than a Q (the computer was dealt two of the latter). How might the game have ended if the Cribbage King had kept the right cards and played them in the right order? It would have pegged more than enough to win:
2 A! 10 4 9 3 (29-1) 5 K (15-3)
Here's another example:
PONE (114):
Schell

6-6-7-9

play:

9 9 (18-2) 6 7 (31-2) 6 2? 7 (15-2) 3 (18-1)
crib:
7-Q
A-K
cut:
A
2-3-7-9

DEALER (115*):
Cribbage King
The play of the 2 on my 6 lead cost Royal Cribbage this game, and would also have cost it the game if my last card was a 2. In either case, I'd have otherwise fallen one hole short. Presumably the program expected that my last card was a 3, and that pairing it was the only way to win. But playing the 3 first was still best. It loses if my last card is a 3, but wins if my last card is a 2 or 7, and those are much better odds than what the Cribbage King came up with.
Having surveyed the strengths and weaknesses of the Cribbage King's game, the obvious question is: how does it stack up to the competition? Without playing an extended series of duplicate matches against other programs, it's hard to say for sure — but in my opinion Royal Cribbage 3.1 would prevail over Cribbage Master and Cribbage 97 for Windows, and would lose to HALSCRIB. Expert human players should bat over .500 against the Cribbage King. Average human players will find it a formidable opponent.
Conclusion
At the beginning of this article, I described a dream cribbage program with the following characteristics:
Is pleasant to look at
Plays at expert level
Keeps statistics and a log of games played against it
Supports duplicate play
Offers a complete set of analysis features, including game hints, calculation of discard and pegging averages, and the ability to evaluate and play out either a specific game situation or an entire user-inputted game
How does Royal Cribbage 3.1 compare to my imaginary program? Well, it has an attractive look and feel. The screens conform to Windows standards, and are not cluttered with needless detail. It does not quite play at expert level (at present HALSCRIB is the only program that honestly does), but it is very close. In the future, if Schempp is able to upgrade Royal Cribbage with more accurate pegging averages and game equity values, then I think this will be enough to elevate its play to the level of a strong tournament player.
Royal Cribbage will keep track of your wins and losses, and will also average your scoring from hands, cribs and pegging. The usefulness of these figures, however, is compromised by the way the program tabulates the last deal of each game. Royal Cribbage does not support duplicate play and does not write a game log. It also does not support playouts, nor let you set up specific game situations for analysis. But neither does any other cribbage program currently available.
Royal Cribbage provides useful statistical analysis of situations you encounter in play, and I recommend that you take advantage of this in your games against the Cribbage King. On each deal, after you've looked at your six cards and selected a toss, ask Royal Cribbage for its suggestion. If it differs from your intended discard, try to determine the reason behind the computer's choice. Continue with your original toss and play the hand out as usual. Afterwards, consider what would have happened if you had made the suggested discard instead. Would things have turned out better or worse for you? Was there something in the program's analysis that you can learn from, perhaps a new tactic that you hadn't thought of before? Follow the same procedure when you're confronted with a tricky pegging decision (it's too cumbersome to ask for advice every time you play a card). Don't treat Royal Cribbage's suggestions as gospel — they're often wrong! Rather, use them to stimulate your thinking and to find new ideas. You'll get the most benefit from the program by taking this kind of active approach, rather than mindlessly clicking through a few games against the Cribbage King.
One of the most useful "features" of Royal Cribbage is actually a side effect of its creation: Schempp's table of pegging averages for the 1,820 four-card cribbage hands (independent of suit). The accuracy of these figures is limited by imperfections in the algorithm used to generate them, but they're still the most comprehensive effort to date to answer one of cribbage's most challenging questions: how to objectively assess a hand's pegging potential.
It seems I'm still waiting for my dream cribbage program to arrive. But with the release of Royal Cribbage 3.1, I'm a little closer to that goal. If you're a devoted cribbage player who has access to a PC, then you owe it to yourself to download this program today.
- April 2001